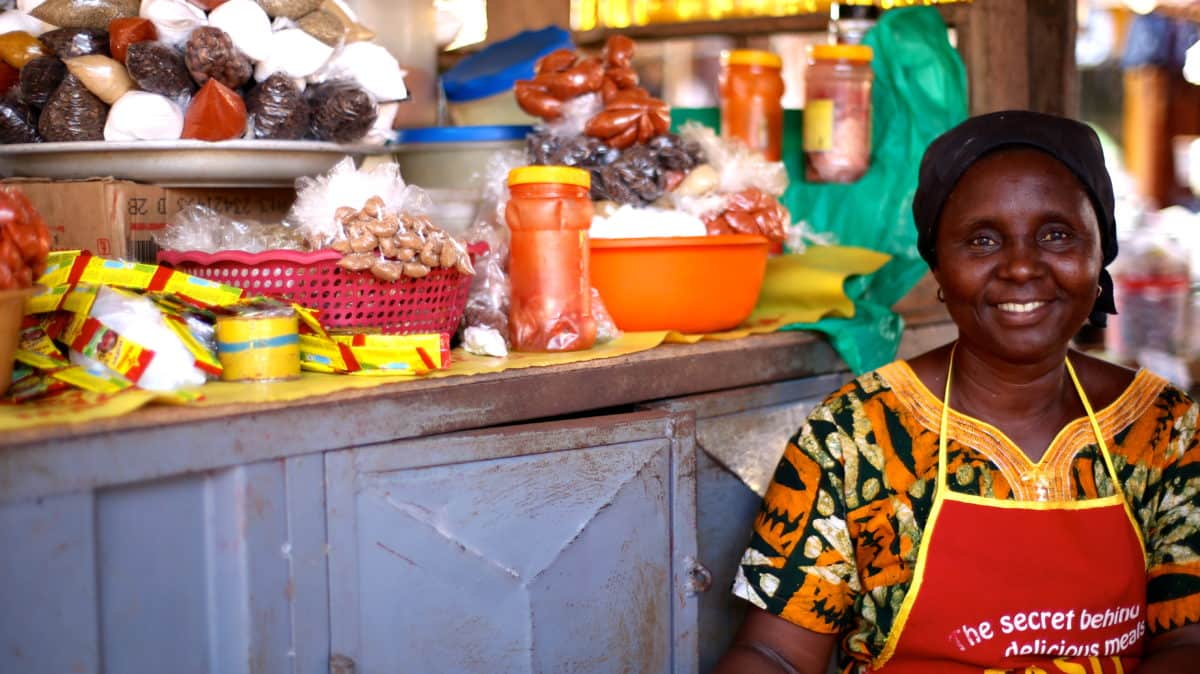 Redefining Branchless Banking in Africa
Africa has been said to be the epicentre of the world population living in extreme poverty, with majority surviving on an average of $2 daily. A research conducted by World bank identifies financial inclusion as a major catalyst for poverty reduction and economic growth.
The role of access to affordable and reliable financial services cannot be overemphasized. Financial services help to deliver the poor people from a hand-to-mouth existence. However, the fact on ground today is that poor and low-income earners are disenfranchised from the financial services ecosystem. They take solace in alternative means like stashing small amounts of cash in pots, relying on community members, friends and family members for small loans, belonging to informal community savings groups like SACO, Stokvel, Thrift etc.
Despite the growth in the number of financial service providers across Africa, the penetration of their services especially among rural dwellers and low-income earners leave little to be desired. Except for the likes of Mpesa and some mobile money solutions here and there, the old and established financial services powerhouse has not been able to come up with the right operating model (i.e. processes, technologies, products and service delivery blueprint) required to tap into the vast opportunities in the low-income segment.
The inability of the incumbents to effectively serve the low-income segment might not be unconnected to lack of clear financial incentives to deliver a commercially viable, safe, secured and pervasive operation that delivers true value to the mass market.
To achieve full financial inclusion, the service provider must be able to provide the following;
Account to Account Fund Transfer
Account to Person Fund Transfer
Person to Person Fund Transfer
Cash In and Cash Out
Bill Payments
Merchant Payments
Remittances
Loan Disbursement and Repayments
Account opening and management (CDD / KYC etc)
Over the past decade, mobile network operators and Fintech companies have delivered various forms of mobile money infrastructure and distribution network; and this essentially has facilitated the transfer of value in various forms.
The likes of Mpesa, Mobile Money Services from Airtel, MTN, Tigo etc. have helped low-income segment customers to successfully carry out basic financial services and these are mainly around the transfer of value. Their value propositions are centred around value transfer using mobile phones as the primary means of authenticating and facilitating transactions between customers and the services providers; with the value stored predominantly on the mobile telecommunication operator's infrastructure. However, the front-end systems do not have the required capabilities required to deliver a universal, all-inclusive and inexpensive financial services in a bank, fintech or telco led delivery model.
To achieve the World Bank Universal Financial Access goals – UFA2020; individuals and businesses must have access to useful and affordable financial products and services that not only meet the transactional and payment needs, but also provide services that include savings, credit and insurance.
The world bank's vision provides for a holistic financial inclusion that helps improve day-to-day living and helps families and individuals plan for everything from long-term goals to unexpected emergencies. This requires an all-inclusive financial service with value propositions that include customer and account management, savings, credit, and insurance; with capabilities that allow minimal savings for rainy days, access to soft loans and, contributions towards education or health as hedge against future uncertainties. All of which can improve the overall quality of lives.
Most incumbent and well-established financial institutions find themselves ill-equipped to deliver the financial inclusions products and services for the low-income segment in line with world bank mandate. The reason for this is mainly due to lack of a well-articulated operating model and service delivery blueprint, inability of the legacy core system to scale and accommodate low value, high volume transactions. In addition to these, there are challenges around lack of understanding of economic drivers that help establish the roles, responsibilities and incentives / benefits expectation of different entities within the value chain, couple with lack of understanding of the right combination of products/customers types/agents type that delivers value in a cost-effective way.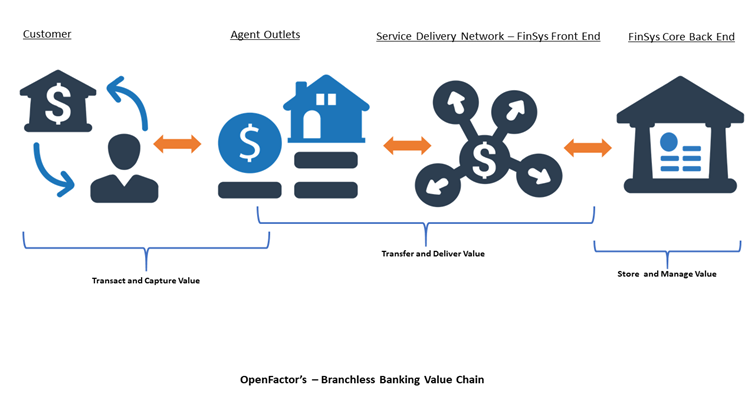 FinSys Digital platform is provides system functionalities that help address these and many other technology challenges around branchless banking.
FinSys is a robust, secure and cost effective digital, community and agency banking platform with modular service-oriented architecture that provides a comprehensive range of functionalities required to deliver financial inclusion.
FinSys provides the following capabilities and functionalities designed to remove barriers to financial services expansion and product and service delivery for financial inclusion:
Secure, scalable and inexpensive solution to support your branchless banking business.
Efficient management of the courier, outlet, agent and sub-agent as key entities in the branchless banking distribution network.
Flexible and faster product definition and launching; catering for loan, savings, deposits and micro-insurance line of business.
Robust customer management with multi-level customer KYC definition and monitoring.
Powerful customer, account and transaction limit management
Flexible agent commission structure and transaction charges/fees.
Inbuilt general ledger and chart of account management that seamlessly integrate with any existing core banking system.
Comprehensive reporting and analytics that meet the central banks' reporting requirements.
Extensive support for a wide range of service delivery touchpoints like agents smartPOS, USSD, mobile and web etc.
Faster deployment and rollout providing proven industry reference model as the baseline operating model for our customers.
Cloud native but fully supports on-premise deployment.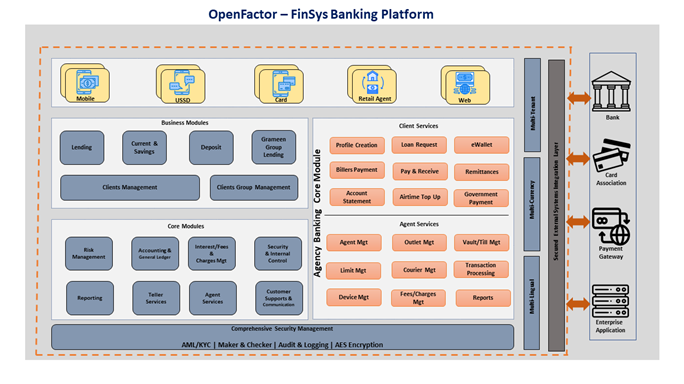 About US
OpenFactor is a Pan Africa technology company providing cutting-edge technology solutions, frameworks, methodologies and services that help organisations infuse disruptive capabilities to unlock customer value.
Our philosophy of value driven and growth stems from our intrinsic ability to infuse disruptive capabilities, our uncompromising focus on the use of modern technology to scale, quality delivery, and our resolve to be a force to reckon with as we provide solutions and services that unlock customer value.
We currently operate in South Africa, Nigeria and Kenya with business office in UK and development team in India. For more information or enquiries, please e-mail us at [email protected]